good advice from Marnie McBean - Canadian three time Olympic Gold Medallist (rowing).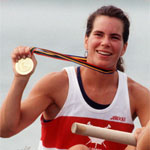 In 2007, a friend of mine, Ray Zahab, ran with two others, 7,500km across the entire Sahara Desert. They ran an average of 70 km per day for 111 days in extreme desert conditions through six countries to raise awareness for clean-water initiatives in Africa. I've heard him speak about it.

Many days were incredible and the people he met, and the things he saw were inspiring. There were also some days when, with each step, he said his mantra was, "this sucks, this sucks, this sucks, this sucks".
I still remember training in February and March when my personal mantra was often "it's a summer sport, it's a summer sport, it's a summer sport".

The dark, rainy and cold days that we were training in did not match the weather of our summer rowing regattas. Not all of your sports are outdoor sports so the weather doesn't affect you in the same way, but March and April I often found as the most depressing months. For all I did, I felt I wasn't getting anywhere.
Coaches and trainers design winter training programs to fix and improve areas of weakness from the previous competition season. You are receiving constant critical feedback while, at the same time, the high training volume is physically exhausting. It's so much harder to stay positive when you're tired.
On top of this we try to multitask more at this time of year than any other, trying to squeeze in a little bit of school, a job, and maybe even a social life.
My point? Regardless if your training takes place indoors or out, with a team or by yourself, it may be hard to stay excited about your training right now.

The joy that you get when your body is competition ready, the sun is warm on your face and you're fired up about what you could seem a distant memory. Right now, it's neither summer nor do you feel ready to race. But that's okay.
Think of the training you are doing right now as earning you bonus points! If competitors of yours get to train in warm, sunny conditions and you don't, then you are simply getting tougher than they are getting.

If your competitors get more early-season competitions than you, then they are breaking up blocks of training time that you are using effectively.

What ever it is, whether everything is going smoothly, or if everything is an uphill battle, figure out a reason that this is to your advantage.
Take even the darkest, most boring training day and make it significant. You can take any day and make it boring, or, you can add a little salsa too it! It's not about just making it through these doldrum days; it's about making it through them better than anyone else.
This note is going out to over 700 athletes; you're in this together.

Go Canada.